Roof Mounted for 2023 Honda Ridgeline
Related Parts
Part # / Description
/ Price
Price
Roof Ski/Snowboard Attachment
The handy Ski/Snowboard Attachment keeps your skis and snowboards outside so your interior stays clean and dry.Oversized push buttons make opening and closing easier, even with gloves onLockable attachment can carry up to six pairs of skis or four snowboards securely in placeAccommodates thicker, modern skis and snowboards.
Roof Surfboard Attachment

Honda designed surfboard attachment provides lateral stability to hold your board snugly in place.Carries two surfboards with an additional surf strap.Soft thermoplastic liningAdjustable padded straps
.
Roof Bike Attachment, Frame Mount
The Upright Bike Attachment allows you to transport your bicycle without having to take it apart. Two Bike Attachments can be added to the Roof Rack or Cross Bars. Fits most adult bicycles.

.
Roof Bicycle Attachment, Fork Mount
The Fork Mount Bike Attachment features a same side adjustment dial that provides fast loading and maximum security for your bike.
-Two bike attachments can be added to the Crossbars
-A Thule® One-Key lock cylinder locks the bike to the attachment and the attachment to the Crossbars
-The rear wheel is secured with a ratcheting wheel strap

.
Roof Kayak Attachment
Getting your Kayak to water just got a whole lot easier with the Kayak Attachment. It will handle kayaks up to 36 in wide and weighing up to 86 lbs. Easy loading with the pivoting, felt-lined rear saddles that help glide and center your kayak. Two independent pivoting saddles conform to a limitless range of hull shapes. Included are two 15 ft straps and a tie down kit.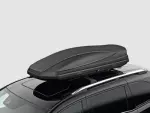 Roof Box, Mid-Size
Keep your golf clubs, snowboards, skis, and other gear protected and out of the elements in the Long Roof Box
-16 cu ft of lockable enclosed storage
-Impact- and UV-resistant
-Measures: length 74 in, width 36 in, height 16.5 in
-110-lb maximum load capacity
-Honda logo at rear adds a custom touch

.
Not For Sale
Not For Sale
Roof Box, Short
You can always use more storage space on a road trip, and the Short Roof Box provides just that. It's especially handy for bulky items like camping gear.
-13 cu. ft. of lockable enclosed storage
-Dual-side opening for easy access
-Measures: length 65 in, width 34.5 in, height 16 in
-110-lb maximum-load capacity
-Honda logo at rear adds a custom touch.
Roof Basket
Need more storage for long trips? This low-profile basket has you covered with a load capacity of 150 pounds. Tapered side walls make loading easier and the included stretch net keeps your cargo in place. A front wind fairing allows airflow over your cargo. Cross bars are required for installation of this item.


.